Welcome to The
Highline Amateur Radio Club
PO Box 852 Seahurst, WA. 98062
Email: NC7G@highlinearc.org
Home of the Highline HAM Community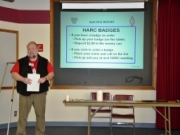 Club meetings are held on the 4th Saturday of each month. Check back here for any changes.
The general meeting is held at 10:00 AM. while the Board of Directors meets at 8:30 AM. All visitors are very welcome to attend either meeting.
If you wish to be on the agenda for the Board of Director's meeting, please advise the club Secretary no later than the Thursday before the meeting.
****************************************************
The general meetings of the Highline Amateur Radio Club are held on the fourth Saturday of every month (except June) starting at 10:00 AM at Fire Station 28, 900 SW 146th St, Burien.
Due to ongoing COVID restrictions at Fire Station 28, the March 2022 regular club meeting will be held at the Normandy Park City Hall, as well as over Zoom.
The address is:
801 SW 174th Street Normandy Park WA
***************************************************************************************
HARC on Social Media
Catch up with Facebook:
https://www.facebook.com/groups356960276978/
****************************************************************************************
HARC members enjoy a casual breakfast get-together each Friday at Tuscany at Des Moines Creek at 09:30 AM